Pirates and other people speculated as to why D-Rock would disappear and go visit Ned.
Some said that for some reason D-Rock felt he could have prevented the tragedy from happening. D-Rock blamed himself for not saving Raven's Cove from destruction even though everyone else knew this blame was not fair.
Other's said that once Ned had been a pirate of his and that it was a Fury social bond thing.
One night at Goosey's, D-Rock explained it to Romp.
"Everyone knows after Ned lost his mind he started hearing voices. I decided to try an experiment. I didn't talk to him. Instead, I walked to the beach and I wrote something in the sand. I came back the next day and he had erased it and he had wrote a reply: Thank You."
D-Rock continued. "I went back the next night and Ned said the strangest thing to me."
"Ned said, Thinking is not logical."
"At first I thought it was just some sort of shock value joke—maybe he was trying to be funny and thought there was a chance I might be kind enough to laugh since he was trying hard."
"I gave him my best smile and said, I'll think about it."
"I went back to New Amsterdam the next morning. I didn't tell anyone the story but I asked people to tell me the meaning of the word Logic. One lady at a bar drew diagrams on paper and gave them to me. Considering how expensive paper is, this was quite nice of her."
"To cut a long story short, I came to the believe that if something is logical, it is built on a set of rules and each when given an input, will calculate the same output every time. There is no choice. There is no decision. It can only follow the logic. If I ask you to go to Rome and start at the Spanish Steps and then write the rules you follow when you go to Isla Tiberina, I can give those rules to Jim and tell him to start at the Spanish Steps, and he will end up at Isla Tiberina. If I give those rules to Nate, he'll walk down the Spanish steps and when he finds the Barcaccia Fountain at the bottom of the steps he'll go swimming and if you ask him what he is doing, he'll tell you he is on break."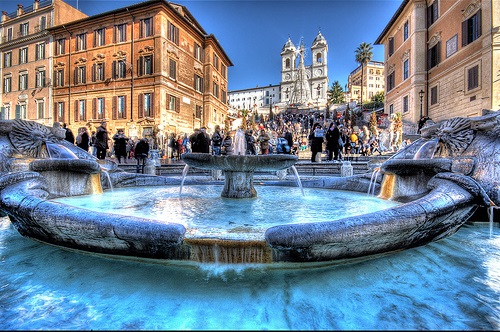 Romp laughed. "So if thinking isn't logical, then what it is it—for the adjective?"
"That's another voyage of discovery."
D-Rock continued. "Ned was right. It was a far out idea. It got me thinking, maybe in his walking around he has time when he thinks about stuff and he may have other things he wants to tell someone—and he might give me the next big idea. And he did. One night he looked at me and said "There is the sea, and there is the sea."
(to be continued)